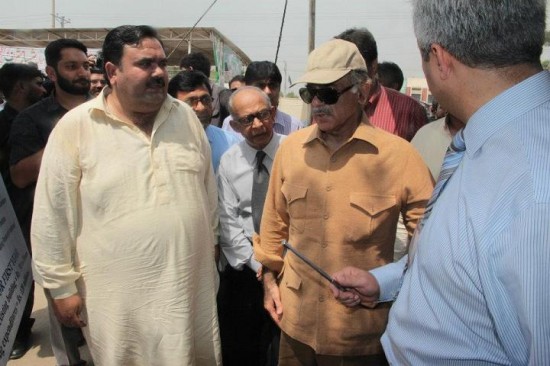 Shahbaz Sharif in Multan, laid foundation stones of Engineering and Agriculture Universities, Hockey and Football Stadiums, DHQ Hospital and Nawaz Sharif Hospital, Chowk Shah Abbas Flyover and Road widening from Bahawalpur Bypass to Chungi No.9 Multan
Multan (Tuesday, August 7, 2012) – Chief Minister of Punjab Mr. Shahbaz Sharif visited Multan city on August 7, 2012 and addresses a public gathering at Technology College and talked to the parliamentarians and journalists at his tent office in Sports Ground.
Shahbaz Said that funds of worth 95 billions rupees given by the federal government for Multan development projects and misused by PPP.
"I swear to God, if this amount was given to me, today every single brick of Multan's streets would have been golden,"
He said he had given a Cricket stadium to the residents of Multan in the past and today he was going to give two more stadiums (Hockey and Foot Ball) to them.
He added that the students would get quality education in engineering and agriculture disciplines at their doorstep. He said the kidney centre and DHQ hospital would prove a blessing for the residents of Multan.
A woman namely Sidra, who was stripped by some influential in presence of police in Khanewal, tried to meet the chief minister and laid down on the ground when cops did not let her see him. The chief minister went to her and listened to her complaint. She also handed over an application to the chief minister, accusing police of registering a case against her instead of the accused.
Shahbaz Sharif inaugurated 10 development projects worth Rs. 16.44 billion. The projects include an :
Agricultural University Multan
Engineering and Technology University Multan
District Headquarters Hospital Multan
widening of road from Bahawalpur bypass to Chungi No-9
Chowk Shah Abbas Multan Flyover
Nawaz Sharif General Hospital Multan
Hockey Stadium Multan
Football Stadium Multan
Girls Degree College Chungi No. 14 Multan