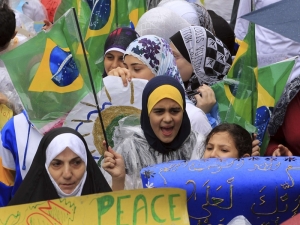 After many countries including Pakistan, Syria, Iran, Bangladesh, India, Brazil also orders to remove anti-Islamic film from youtube.According to sources Brazil court orders to remove anti-Islamic film from youtube within 10 days.
This lawsuit was brought by Brazilian Muslim Group against youtube owner Google Inc,
Judge Gilson Delgado Miranda said the case juxtaposed freedom of expression and the need to protect individuals or groups of people from action that might incite religious discrimination.
An elections court earlier ordered to arrest the senior executive of Google Inc. in Brazil if company fail to remove videos from Youtube.
Fifteen people were killed in Pakistan during demonstrations over the video on Friday. People involved in the film, an amateurish 13-minute clip of which was posted on YouTube, have said it was made by a 55-year-old California man, Nakoula Basseley Nakoula.