After protests in many Islamic countries and due to boycott and blockage of most Google services in Iran, Pakistan, Bangladesh, Syria, India and other countries have warned Google, the owner of Youtube Brazil Court Orders to Remove Anti-Islamic Film from Youtube, Google's ranking goes down by 1.Google which had long record of number one ranked website now a days has 2nd rank in the world.
According to Alexa report, Google loses 3 million users daily due to its entirely or partially blocked services in many countries.After Pakistan Demands Removal of Anti-Islam Video from Youtube many Islamic countries also raised this issue and blocked Google services.As we know facebook is always ready to take Google's rank due to huge amount of users' traffic.Facebook is now on 1st rank by Alexa
Here is its ranking information by Alexa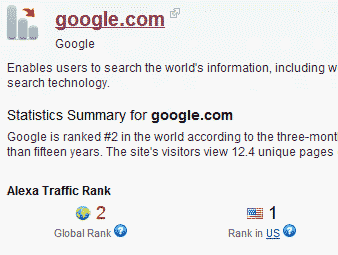 Internet users specially in Islamic countries and their boycott have started finding Google's alternatives.While other companies of similar services enjoying benefits of Google boycott.Not only Google loses its ranking by this boycott but also they got lost in its premium service (Google Adwords) and bears about more than $2.1 Million lost.
According to sources Brazilian police kept Google's president in Brazil under their custody due to not removing videos and Anti-Islamic films from youtube.
According to AFP Google's Chairman Eric Schmidt defend the Anti-Islamic films on youtube saying:
Its not the solution to block these videos but a proper dialogue."Its doesn't mean we support these type of videos" he added.