Like Yahoo,AIM,MSN messenger facebook also launched its application for Windows users.Current release for Windows 7 only,If you have Windows XP,MAC or any other OS you wouldn't be able to taste this.
Chat while you do other stuff
See and respond to chats right from your desktop. Whether you're browsing other websites or using another app, you don't have to click away to stay connected.
Get notified instantly
Find out about new comments, photo tags and more as soon as they happen.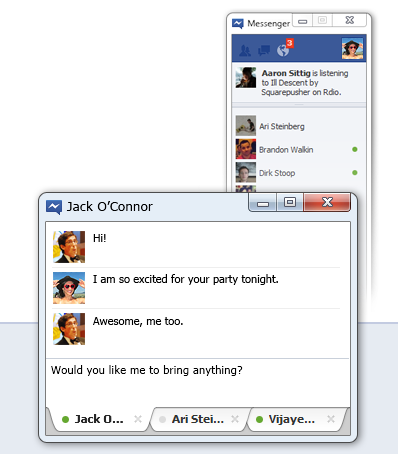 How do I install the Messenger desktop app?
If you have Windows 7, you can set up the app by clicking the Install button on the 
Messenger for Windows 
page.
If you use Windows XP, Windows Vista, Mac or another operating system, you won't be able to install the app at this time. We're working on making the app available for more operating systems, so stay tuned.